Online Contract Management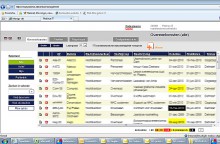 Protinus IT offers you simple and transparent online contract management for all your contracts and agreements via itcontracten.nl.
Unwanted tacit renewals are now a thing of the past.
In our portal, you can easily manage the duration of each contract or agreement. You can even be kept proactively informed of the end date of a contract and more importantly: the notice period!
Saving money on your contracts is now truly possible.
The dashboard will provide you with direct insight into all your contracts and agreements, wherever and whenever you want. Thanks to the extensive reporting options, you can quickly and easily generate any desired reporting of your contracts. It is now truly easy to trace and realise every saving opportunity. With the easy document-reading module, you can get started right away!
Curious about the possibilities?
You can request a demo account free of charge and without obligation to quickly and easily experience the possibilities of itcontracten.nl.
Do you want to get started right away?
Request a free trial period. You can try itcontracten.nl for free. Your organisation will then have access to its own database in the online SaaS environment.
Functionalities:
Online Contract Management
Web-based
Direct insight through a clear dashboard
Complete relationship management
Cost centres
Extensive reporting options
Authorisation possibilities for users
Automatic contract reminders via mail
Reading documents
Uploading documents
What you can use our portal for:
Supplier contracts
Lease contracts
Subscriptions
Framework agreements
Service Level Agreements
Agreements & Procedures files
Non-Disclosure Agreements
Letters of Intent
Intellectual Property Declarations
Employment contracts
Patents
Software licenses
Maintenance contracts
Warranty periods and contracts
Project agreements or contracts
Management contracts
Housing and hosting contracts
Software as a Service contracts
Insurance contracts
Telecom contracts
Building leases
Maximum manageability of your contracts?
Online contract management is certainly an excellent start in managing your current contract portfolio. However, this tool does not offer you and your organisation contract consolidation, or increased agility. Managed Sourcing ensures maximum manageability, consolidation and even higher savings in your sourcing.