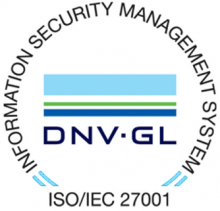 In addition to ISO 9001 (quality), ISO 14001 and CO2-Performance Ladder Level 5 (Environment), Protinus IT is now also certified ISO 27001 (information security). Marcel Kleijnen, manager of the Shared Proposition Center at Protinus: "At Protinus, we strive to achieve the highest standards in everything we do, to embed those standards in our management system and to periodically test them externally in all their facets.
With the ISO 27001 certification, we guarantee the confidentiality that information is only accessible to authorised persons, we guarantee the integrity, accuracy and the completeness of information and information processing methods; we also guarantee the availability of authorised users having access to information and the associated resources when necessary.
Anyone practicing IT professionally can not be allowed to remain behind in these developments."
All our certifications have been merged into one quality management system. This way, all facets are guaranteed to perform at the highest possible level in every action or operation.