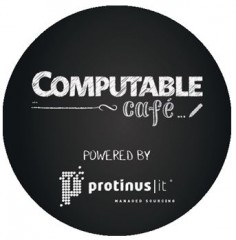 The ICT Exhibitions of the year: Infosecurity.nl, Data & Cloud Expos are held on 1 and 2 November in the Jaarbeurs in Utrecht. A visit to the exhibition is the ideal opportunity to meet other visitors, young talent, guest speakers, exhibitors and the editorial team of Computable. We have made it particularly easy for you this year: you can meet them all at the Computable Café, powered by Protinus IT.
The "Protinus IT Happy Hour" starts at 4 pm on 1 November and at 3.30 pm on 2 November. During these hours, it will be possible for visitors of Infosecurity to socialise and to enjoy drinks and tasty snacks at the café.
Will we see you there?